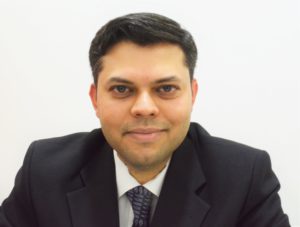 Vivek has functional experience as an Investment Adviser for over 14 Years
in the Investment Advisory Industry. Possesses a rich finance background
and with an Inter CA degree from Institute of Chartered Accountants of India
and a Certified Financial Planner from FPSB India & Advanced Diploma in
Business Management from ICFAI. With recently completed Level 1 CFA
USA as a continuous education initiative as Vivek's thirst for learning continues.
As a Founder & CEO V R Wealth Advisors Pvt Ltd, a Mumbai Based Financial Planning & Advisory Firm with a 10 member team . Vivek closely works with over 100 Clients within the country & overseas. His clientele includes professionals in the Indian corporate and multinational companies at top and middle level management who consult him for their personal finances.
US FPA has appointed Vivek as a part of a 6 member group from India for the Asia-Pacific Geo Focus Group to overlook the cross border practices and coordination.
Vivek continues to write articles and voices opinions in ET Wealth, Business Standard, Economic Times, Money Control, DNA Money, Wall Street Journal & Financial Planning Journal , as a part of his contribution to the industry.
Vivek has been associated with NDTV Profit's various shows on Personal Finance
& Investments.
Vivek is also invited at various forums to share his experience in this field among
the fraternity .
Vivek also conducts trainings for Corporates on topics which create Financial Awareness among members and helps them see finances in a more structured manner.
Vivek has also been on the panel on the events conducted by FPSB India. He was one of the earliest delegates for Financial Planning Conference in USA from India. He is invited at various forums for panel discussions on the Practice Management In India.
Today Vivek is a part of 6 member task force in India which interacts on behalf of Investment Advisors Community in India with SEBI , Financial institutions – Asset Management companies on larger issues which needs interventions and improve the overall experience of the clients and the stakeholders in the process .